Excellent surface finish and stable machining due to secure clamping and minimum run-out
Indexable end mill for high precision finishing
Series of indexable cutters with precise insert repeatability thanks to its unique asymmetrical V profile
– 2 insert profiles available: spherical and square edge with radius.
– Toolholders are available in one-piece shank and modular style.
New indexable endmill for die & mold and aerospace industries.
Features
1. Excellent surface finish and stable machining thanks to secure clamping and minimum runout.
– Secure clamping mechanism


– Unique coolant distribution system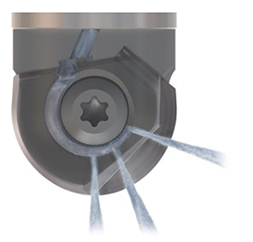 – Two varieties of pads

Inquiry - Ball Finish Nose
Fill out the form below and we'll be in touch soon.